Round Trip – Viaje de ida y Vuelta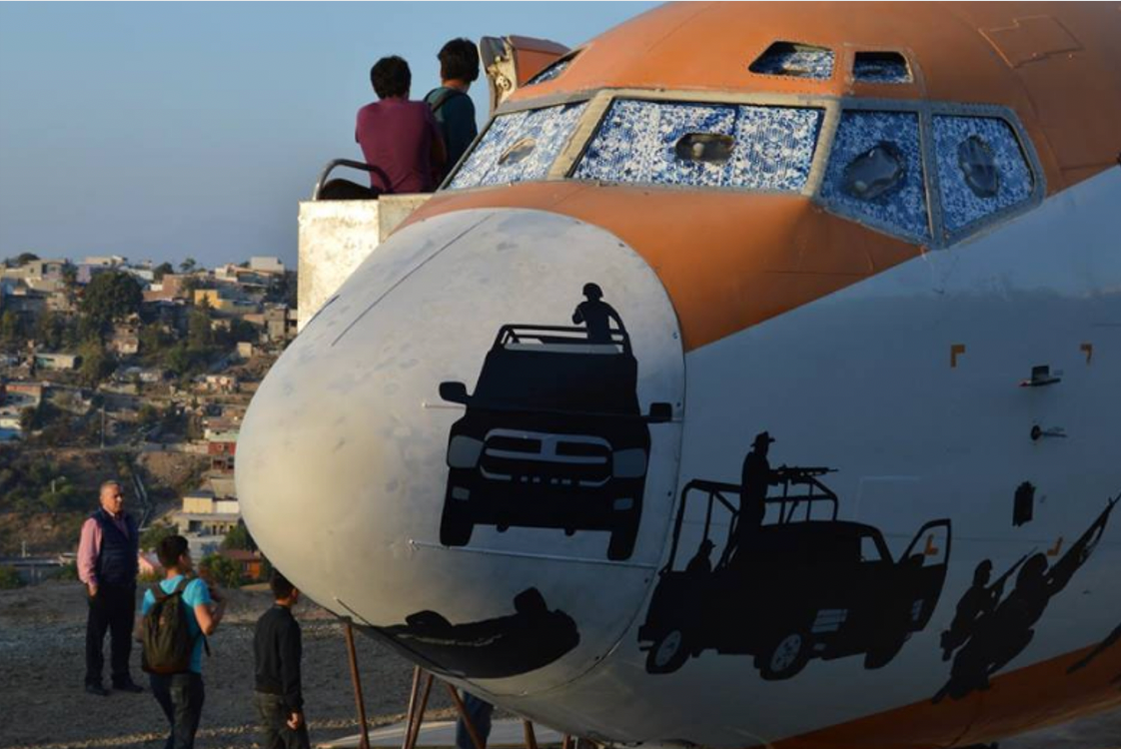 Griselda Rosas
Captains Cabinet Windows
The aircraft Boeing 77 -functions as a test space for aeronautical engineer students- became an exhibition space in which five artists from San Diego, Los Angeles, Tijuana and Mexico City participated. Ander Azpiri, Aren Skalman, Chris Warr, Rizzhel Mae Javier and Griselda Rosas.

The objective of this project was to present a set of site specific works outside the traditional circuits of exhibition by recon-textualizing art created outside the specificity of white boxes, as occurs in museums or galleries by building a playful link of reinterpretation between the viewer and the art.
Artists
Ander Azpiri is a sculptor, virtuoso draftsman and micro-sculptor; has exhibited since the nineties in various spaces in Mexico, Spain, Germany, the United States, Colombia and England; has been a member of the National Creator System.
Rizzhel Javier elaborates poetic ethnography by means of the rescue and reinterpretation of the daguerreotype, but also manages an endless number of innovative techniques; her work has been extensively exhibited in Southern California. She is a recipient of the 2017 San Diego Art Prize.
Aren Skalman creates playful sonorities with sculptural machines driven by human interaction with space; has recently exhibited at the Athenaeum Music and Arts Library, San Diego Art Institute, Bread and Salt, Space 4 Art, SDSU Downtown Gallery, and the Los Angeles Municipal Art Gallery.
Griselda Rosas constructs disturbing syncretic sculptures that are metaphors of political and historical-productive hegemonies. She has been invited to exhibit in esteemed spaces of the United States, Mexico and southern France; recently was selected in the edition of the Biennial of Florence and at the moment belongs to the National System of Creators.
Chris Warr is a craftsman of the human figure, who explores meticulously through the fragment and playing with the size and scale of the materials; is a co-founder of Space 4 Art, San Diego, and his work has been exhibited at cultural centers and museums in the state of California.